What a freak. After all, it is California, he's a doctor, a democrat, and it is the holiday season.
Man Who Sent Manure to Treasury Secretary Steven Mnuchin Identified as Child Psychologist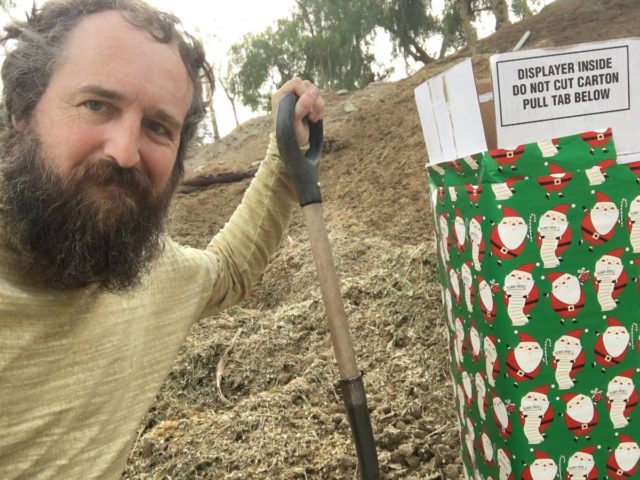 The person who sent Secretary of the Treasury Steven Mnuchin a box of manure in response to President Donald Trump's tax reform has been identified as Dr. Robert Strong, a psychologist for the Los Angeles Department of Children's Health.
Dr. Strong proudly claimed credit for the prank after sending the suspicious package, which caused panic in Mnuchin's Bel Air neighborhood on Saturday and forced the Los Angeles Police Department to send in its bomb squad on the holiday weekend.
"What I did, I would like to compare to what Jesus did when he went into the temple and overturned the tables of the moneychangers, who were exploiting the people financially in the name of religion. I feel like that's what the GOP has done to the American people," Strong told Southern California Public Radio.
Strong posted several tweets on his largely-dormant Twitter account celebrating the prank, including a photo of himself digging the manure, and a photo of the Christmas card he enclosed: "Mrs. Mnuchin & Trump, We're returning the 'gift' of the Christmas tax bill. It's bullshit. Warmest Wishes, The American People. P.S. — Kiss Donald for me."
It turns out the package was not just addressed to Secretary Mnuchin himself but also to the president — although Dr. Strong incorrectly wrote "Mrs. Mnuchin," which could refer to the secretary's wife, who has become a target of hatred for her ostentatious displays of wealth. (The proper plural of "Mr." is "Messrs.", derived from French.)Officials have not released any information about criminal charges that Dr. Strong may face. The investigation is reportedly in the hands of the U.S. Secret Service.Joel B. Pollak is Senior Editor-at-Large at Breitbart News. He was named one of the "most influential" people in news media in 2016. He is the co-author of How Trump Won: The Inside Story of a Revolution, is available from Regnery. Follow him on Twitter at @joelpollak.